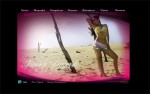 viancadugarte.com
Vianca Dugarte was born on December 16, 1985, under the sign of Sagittarius in the State of Mérida-Venezuela. He became a model at the age of 15, and later he participated in many photo shoots that opened up a range of possibilities for him as a model for the Pepsi brand. Empresas Polar protocol and was presented at many special events.
At 18 years of age he became of legal age and participated as Gogodance in the game show broadcast by RCTV âAprieta y Ganaâ. There he shared and was part of the program's team together with well-known personalities of Venezuelan television.
She subsequently continued to prepare to become the PLAYMATE VENEZUELA girl of the month for October 2009, because she has always admired them for her beauty and determination.
Since then, thanks to her faith and her good work before the cameras, she was selected among many Playmates to participate in the first Playboy Venezuela Calendar 2010 representing the month of September.